I love Contemporary YA. It hasn't always been that way. It's a relatively new obsession that I picked up over the summer. But the bottom line is, I am madly in love with this genre. Do you love it, too? Great! Do I have something fun to share with you, then.
You might have seen this lovely button scrolling along on my events roll. I am involved in an event this November called Just Contemporary. During the month I will be having guests blog about various contemporary YA related topics, and I will be a guest on blogs, too. But then I got to thinking about how many contemporary books I have read and loved. And how I believe that when I love a book, the highest honor I can give it is to share it with someone else.
And then I thought, "Why don't I organize something to get even more people to do that?" And so, the Keeping it Real Reading Challenge was born. Want to know how to get involved and have a chance at some totally fabulous prizes? Then read on. :)
UPDATE:
Some people have been asking me if it is okay if they read adult contemporary as well. I suppose this is not an issue if people want to. The point of reading is to get enjoyment from it. What I *will* ask is that you please put (Not YA) after such titles when you link them so that people will be aware before they click them.
YA Sample:
The Fine Art of Truth or Dare @ I Write, I Read, I Review
Adult Sample:
(Not YA) Enslaved @ I Write, I Read, I Review (That book is from a *long* time ago. I don't actually read a lot of adult contemporary, but that is one that came to mind immediately, and ironically it's a Harlequin Blaze title that I would **definitely** want that Not YA bracket beside.)
... Which in turn means that, YES, you may choose an adult contemporary book if you win at the end of November and that is your preference.
Step #1: Sign up!
First thing's first, we need to get this reading challenge off the ground. So I would like everyone who wants to participate to sign the link tool at the bottom so that people can see who is getting involved. Who knows, this might get you some more visitors. We all want those, right? :)
Next, you need to either grab my Keeping it Real Reading Challenge button or you need to make a post about the challenge. The goal is to get as many participants as possible, so this will help and is super important. You
must
to do at least one of these two things -- the button or a post -- in order to be eligible for prizes.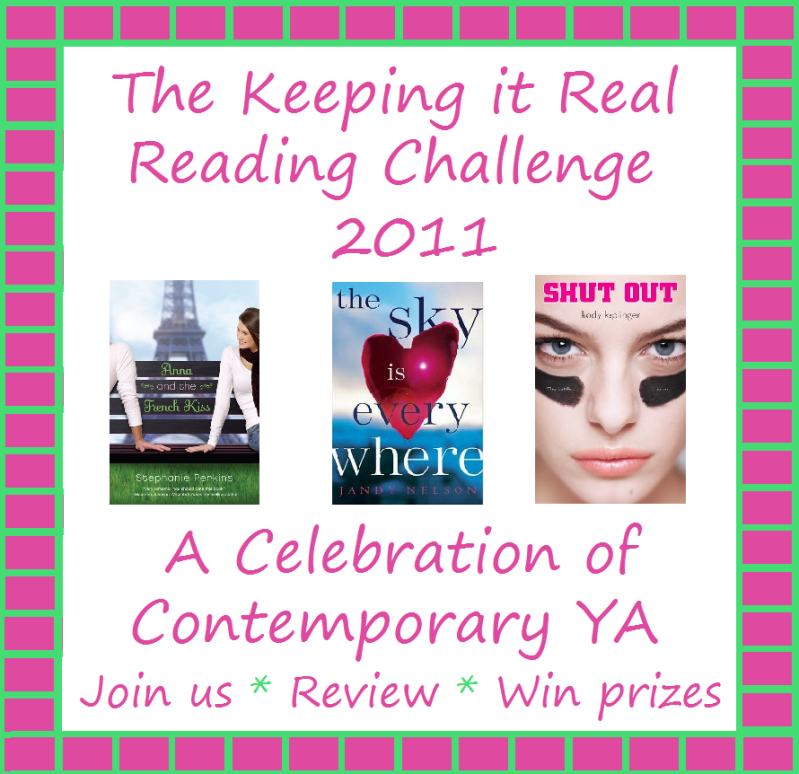 Step #2: Review
Come November 1st, I will create a new post where you will be able to link up your reviews. Each review will count as one entry toward the giveaways at the end of November. All reviews
must
be posted for the first time between November 1st 2011 and November 30th 2011 to be eligible as entries.
To complete the Keeping It Real Reading Challenge you must read three contemporary YA books and link reviews to them here during the 30 days that the challenge will run. If you want to aim higher, go for it. The more you read, the more chances you have to win. But I know it's edging closer to the holiday season and I wanted to make sure that the minimum requirement wasn't so much that it would overwhelm people.
Step #3: Win Prizes!
The part you were waiting for, right? There's no shame in being honest here. :) Who doesn't love the idea of winning a brand new book? For this event there are going to be THREE lucky winners. I like the number three. Probably because I love fairytales and myths and three is an important number in storytelling. But that's beside the point. The point being: THREE people are going to win a new book.
So, wanna see what's up for grabs?
That's just a taste of the variety of books that Contemporary YA has to offer. If you win and would prefer a different title by one of these authors, or in general, that is totally fine so long as it is a Contemporary YA book, since that is what we are here to read. :)
Rules (The Boring But Important Stuff...)
Some of this is a repeat, but that's because it's important.
(1) To be eligible to win a prize, you must live somewhere that The Book Depository will ship to.
(2) I am going to be selecting three distinct winners. I want as many people as possible to get a prize.
(3) You *must* either have the Keeping it Real button or do a post on your blog to be eligible. (C'mon, we need the promotion to make this interesting.)
(4) The book reviews that you link must be posted for the first time between November 1st 2011 and November 30th, 2011.
Sign Up Here!